At CFCCU, our focus is on you – our members – and our commitment is to help you achieve your financial goals. We provide all of the financial services and products you need, just like our competitors in the "bank" industry.
CFCCU, however, is unlike traditional banks in that our bottom line is your satisfaction, not big money for stockholders. We are a non-profit organization, so we can devote our resources to improving your financial opportunities.
We look forward to working with you to find the "better way" to reach your goals and to build your financial security. If you'd like to chat, please send us a message above.
This credit union is federally insured by the National Credit Union Administration. Equal Housing Opportunity.
In This Issue:
Mortgage Advancements
Mobile Banking Updates
2020 Annual Meeting
2020 Board of Directors Election
Withdrawing Funds Update
Exciting Advancements for Mortgages with CFCCU
We have launched our new secondary market mortgage program! This program allows us to offer competitive mortgage rates and services to our members. We officially launched this program in April, and have already surpassed our expectations of loans funded! Check out our website to learn more about this exciting program.
COMING SOON!
We are upgrading our online and mobile banking platforms to offer better services and a streamlined product. Follow us on Facebook and sign up for our email newsletters to stay up to date on the upcoming changes!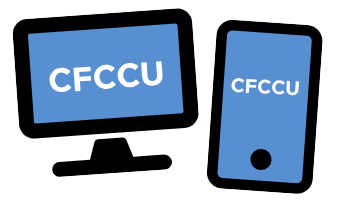 Why is a CFCCU credit card better than our competitors?
We offer low-interest credit cards with no annual fees, no cash advance fees, and no balance transfer fees. Cardholders can easily view and manage their credit card accounts online with mycardinfo.com or at any of our local branches. CFCCU credit cards are also chip and wave enabled. To learn more, visit our website or call a loan officer today.
2020 Annual Meeting
Please join us for our 62nd Annual Meeting
Tuesday, October 13th, 2020, 5:30 PM
CFCCU Main Branch
123 W 4th Street, Cedar Falls, IA 50613
Exercise your right to vote for your representatives on the Board of Directors
Short business meeting to hear about CFCCU's achievements and future plans
Social distancing and face masks required
There will not be food provided at this year's meeting due to the COVID-19 pandemic
2020 BOARD OF DIRECTORS ELECTION
2020 Board of Directors Election Ballot
You must be a primary account holder in good standing and 16 years of age or older to vote. A joint owner of an account is not eligible to vote. CFCCU has 3 seats open on the board. When voting, please select 3 of the below candidates.
Jim Sealman
Jim Sealman has served on the Board since 1987. During his time on the Board, Jim has served on the Audit Committee and the Credit Committee. Jim retired from Viking Pump in 2012 after 42 years of employment. For the past 8 years, he has worked at Farmers Feed and Supply.
Bruce Sorensen
Bruce Sorensen has served on the Board since 1987, and has served as Chairman for many of those years. He retired from the City of Cedar Falls as Public Works Director in 2014, after 42 ½ years of employment. He enjoys spending his retirement in Cedar Falls and Clear Lake with his wife, Jessie, of almost 50 years. They have one son, Jeremy, who is married to Michelle. They also have two grandchildren, Marley, who is at Iowa State, and Aiden, who is a junior at Cedar Falls High School.
Fred Ritchie
Fred Ritchie is a U.S. Navy veteran and a member of the American Legion. Fred worked for Waterloo Industries as an Industrial Designer for 25 years and retired in 2005. For 5 years, Fred served on the Board of the Waterloo Industries Credit Union. He continued to serve on the CFCCU Board when they merged with WICU in 1996. Fred currently serves as the Chairman of the Credit Committee. To help expand his knowledge of the credit union industry, Fred frequently attends state and district credit union conferences. Fred values his association with CFCCU, and feels that his time on the board has been very fulfilling and rewarding.
Daniel Mills
Daniel Mills is the Director of Sales at Pella Windows in Waterloo. He has been with Pella Windows for 18 years. Before that, he worked in the telecommunications industry for over 20 years.
Daniel moved to Cedar Falls in 1995 to work at CFU and brought his first paycheck to CFCCU to open his account.
Daniel met his wife of 21 years, Linda, while working at CFU. They now have 4 children plus Linda's daughter. They also have 7 wonderful grandchildren. Daniel and Linda enjoy spending their time with their family and Golden Doodle Charlie and Irish Doodle Nelly.
WITHDRAWING FUNDS FROM CFCCU
It is the policy of Cedar Falls Community Credit Union to make funds from member's deposits available on the same business day the credit union receives the deposit. A member can withdraw the funds in cash and we will use the funds to pay checks the member has written.
For determining the availability of deposits, every day is a business day except Saturdays, Sundays, and federal holidays. We will consider a deposit as being made on a business day if it is made in person to one of our employees. Deposits made at one of our night depositories or at a CFCCU-owned ATM will be considered deposited on the next business day we are open. Funds deposited at ATMs not owned by CFCCU will be available the second business day after the day of deposit.
Longer Delays May Apply
In some cases, we will not make all funds that a member deposits by check available on the same business day as the day of deposit. However, the first $225 of a member's deposit will be available on the day the deposit is made.
If we are not going to make all the funds from a member's deposit available at that time, we will inform the member when the deposit is made. We will also tell a member when the funds will be available. If a deposit is not made directly to one of our employees or if we decide to take this action after a member has left the premises, we will mail the notice to the member on the next business day after we receive the deposit.
If a member will need the funds from a deposit right away, he/she should ask us when the funds will be available.
Funds deposited by check may be delayed for a longer period if:
We believe a check deposited will not be paid;
The checks total more than $5,525 on any one day;
A member re-deposits a check that has been returned unpaid;
A member overdraws his / her account repeatedly within the previous six months;
There is an emergency, such as failure of communications or computer equipment.
We will notify a member if his/her ability to withdraw funds is delayed by us for any of these reasons, and will tell that member when the funds will be available. They will generally be available no later than the seventh business day after the date of deposit. We reserve the right to refuse any item for deposit.
Special Rules for New Accounts
When a member opens a new account, the following special rules will apply during the first thirty days the account is open.
The first $5,525 from a deposit of U.S. Treasury checks will be available on the next business day after the day of a deposit. The amount over $5,525 will be available on the seventh business day after the day of a deposit. Funds from wire transfers into an account will be available on the next business day after the day we receive the transfer.
Funds from a deposit of state or local government, teller's, cashier's, certified, and traveler's checks will be available on the first business day after the day of a deposit if it meets certain conditions. For example, the checks must be payable to the member. The excess over $5,525 will be available on the seventh business day after the day of the deposit. If the deposit is not made in person to one of our employees, the first $5,525 will not be available until the second business day after the day of the deposit.