Student Loans
Encouraging Responsible Borrowing for tomorrow's future.
Responsible Borrowing
We encourage students and families to supplement their savings by exploring grants, scholarships, federal and state student loans, and to consider the anticipated monthly payments on their total student loan debt and their expected future earnings before considering a private education loan.
It's important to note that we don't believe in taking advantage of people when they encounter a bump in their financial road. While other financial institutions impose "default rates" which may be a lot higher than our fee if a loan or credit payment is late, our rates do not change just because of a late payment. And our late payment charge is significantly lower than the big bank fees.
We work to make your lending experience as easy as possible.
Student Loans
The first step in the financial aid process is to complete and submit the free FAFSA application for Federal Student Aid.  This form is available at www.fafsa.ed.gov or by calling 800.433.3243.
If you need assistance you can go to  www.studentaid.ed.gov. Typically, this form needs to be filled out soon after Jan. 1 of your senior year of high school and before your college's financial aid priority deadline.  Deadlines from state to state do vary.  FAFSA needs to be filled out every year you want to be considered for financial aid.
WARREN A. MORROW MEMORIAL SCHOLARSHIP
The Iowa Credit Union Foundation's (ICUF) 2022 Warren A. Morrow Memorial Scholarship application is now open to Iowa credit union members who are high school seniors or post-secondary students.
High School Scholarship – Designated for high school seniors planning to enter college in 2022.
Post-High School Scholarship – Designated for individuals entering or attending an accredited undergraduate, graduate or vocational program in 2022.
Find additional information about the scholarship here.

Iowa Financial Know-How Challenge: Senior Scholarship
Program to Award $2,000 Scholarships to 30 Iowa High School Seniors; Educate on College Financing
Thirty Iowa high school seniors will each be awarded $2,000 for college through the Iowa Financial Know-How Challenge: Senior Scholarship, sponsored by Iowa Student Loan®.
To enter the scholarship, interested students should register and review scholarship rules at www.IowaStudentLoan.org/Money between now and Feb. 26. After registering, students will be emailed instructions on how to complete the required steps, which include two online tutorials and a multiple-choice assessment, to qualify for the scholarship.
Iowa Student Loan developed the online tutorials to educate students on ways to reduce their need to borrow for college and how to maximize their return on college investment, or ROCI. The assessment will measure students' understanding of those concepts.
Completing the registration and all three elements should take around an hour, according to scholarship organizers at Iowa Student Loan. Students can complete the elements one at a time or back-to-back anytime between Oct. 19, 2020, and Feb. 26, 2021, using the instructions they receive via email.
The 30 students with the highest scores on the assessment will each be awarded a $2,000 college scholarship. The money will be sent directly to the recipients' colleges and universities to be applied to their cost of attendance. A tiebreaker may be required.
In addition to the student scholarships, a corresponding $100 will be awarded to each recipient's high school.
During the scholarship qualifying period, registered students will receive emails with tips for college enrollment and financing. An option allows registrants to provide parents' emails so their families can also benefit from this valuable information.
Since the 2013–2014 school year, more than 25,000 Iowa high school students registered for the Iowa Financial Know-How Challenge: Senior Scholarship, with 190 recipients from more than 100 high schools across Iowa.
"I'm really grateful to Iowa Student Loan because I learned many different (and surprisingly easy!) ways to save money before and during college," said Laila Kamhawy, a 2020 graduate of Waukee High School and a recipient of the Iowa Financial Know-How Challenge: Senior Scholarship.
For more information about the Iowa Financial Know-How Challenge: Senior Scholarship, visit www.IowaStudentLoan.org/Money or email [email protected].
Student Loan Partnerships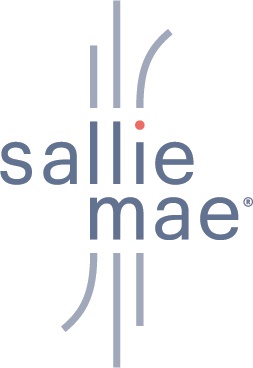 Whether you're an undergraduate, graduate student, or parent, apply for money for school from Sallie Mae®. 
Student loans from CFCCU in partnership with Sallie Mae® could help!
Sallie Mae® higher education loans are designed for the needs of undergraduates, graduate students, and parents.
Competitive interest rates
Multiple repayment options
No origination fees; no prepayment penalty¹
Smart Option Student Loan® for undergraduate students, parent loans, plus the graduate loan suite is designed to meet the needs of students in specific fields of study.
 
Borrow responsibly
We encourage students and families to start with savings, grants, scholarships, and federal student loans to pay for college. Students and families should evaluate all anticipated monthly loan payments, and how much the student expects to earn in the future, before considering a private student loan.
These loans are made by Sallie Mae Bank or a lender partner. CFCCU is not the creditor for these loans and is compensated by Sallie Mae for the referral of loan customers.
Smart Option Student Loan and graduate loan products: This information is for students attending participating degree-granting schools. Smart Option Student Loan information is for undergraduates only. Graduate Certificate/Continuing Education coursework is not eligible for MBA, Medical, Dental, and Law School Loans. Borrowers must be U.S. citizens or U.S. permanent residents if the school is located outside of the United States. Non-U.S. citizen borrowers who reside in the U.S. are eligible with a creditworthy cosigner (who must be a U.S. citizen or U.S. permanent resident) and are required to provide an unexpired government-issued photo ID to verify identity. Applications are subject to a requested minimum loan amount of $1,000. Current credit and other eligibility criteria apply.
Parent Loan: This information is for borrowers with students attending participating degree-granting schools. The student is not eligible to be a borrower or cosigner. The borrower, cosigner and student must be U.S. citizens or U.S. permanent residents. The school may refund loan funds directly to the student, and if that occurs, borrower, and cosigner (if applicable) would still be responsible for repaying that amount. Applications are subject to a requested minimum loan amount of $1,000. Current credit and other eligibility criteria apply.

1 Although we do not charge you a penalty or fee if you prepay your loan, any prepayment will be applied as provided in your promissory note: First to Unpaid Fees and costs, then to Unpaid Interest, and then to Current Principal.
SALLIE MAE RESERVES THE RIGHT TO MODIFY OR DISCONTINUE PRODUCTS, SERVICES, AND BENEFITS AT ANY TIME WITHOUT NOTICE.
© 2019 Sallie Mae Bank. All rights reserved. Sallie Mae, the Sallie Mae logo, and other Sallie Mae names and logos are service marks or registered service marks of Sallie Mae Bank. All other names and logos used are the trademarks or service marks of their respective owners. SLM Corporation and its subsidiaries, including Sallie Mae Bank, are not sponsored by or agencies of the United States of America.

We work with Iowa Student Loan to offer supplemental private loans to help you pay for college as well as refinance existing student loan debt. As an Iowa non-profit and the state's student loan experts, Iowa Student Loan offers competitively priced loans.
The Partnership Advance Education Loan (Partnership Loan) and College Family Loan were created to help you pay college costs while you or your student are in school.
The Partnership Loan is for students and their cosigners.
The College Family Loan is for parents, family members and others who wish to borrow on behalf of a student.
The Reset Refinance Loan can help you simplify repayment or pay lower interest costs on existing student loans after college.
With these loans, you know what you're getting before you apply as all terms and conditions, including credit score requirements for specific rates, are provided upfront. In addition, there are no upfront origination fees and you can earn an interest rate reduction for making payments by auto-debit in repayment. Note: These loans are subject to credit approval.
About Iowa Student Loan
Iowa Student Loan was established in 1979 as a private, nonprofit corporation, and its mission is to help Iowa students and families obtain the resources necessary to succeed in postsecondary education.
*Cedar Falls Community Credit Union is compensated for the referral of Smart Option Student Loan customers and by Iowa Student Loan for the referral of student loan customers.
RESOURCES FOR PARENTS AND STUDENTS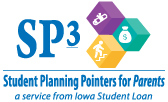 As students progress through high school, the pressure builds to help them discover a path for success after high school graduation. Is college, a certificate or a skilled trade right for your student? What should students do when, and what can parents do to help them with those tasks? How does all this affect family finances?
A new free service from Iowa Student Loan® can help parents with all these questions and more. By registering for the SP³ – Student Planning Pointers for Parents service, you will receive twice-monthly emails providing tools, tips and conversation starters for your students in eighth through 12th grades.
All information is based on grade level and is appropriate for the time of year. Written and compiled by the professionals at Iowa Student Loan, a non profit commited to helping families successfully pay for education after high school, the emailed information is designed to be simple but effective.
In addition, registered participants are entered into quarterly drawings for contributions to a College Savings Iowa 529 plan.
Interested parents can sign up here.
Apply for your CFCCU Account Today.