So, you are ready to hit the waves with friends and family in a new (or new to you) pontoon. It may be comforting to know that the procedure of acquiring pontoon boat financing for the first time is comparable to that of purchasing a home or automobile. Our comprehensive guide to financing a pontoon boat includes helpful advice.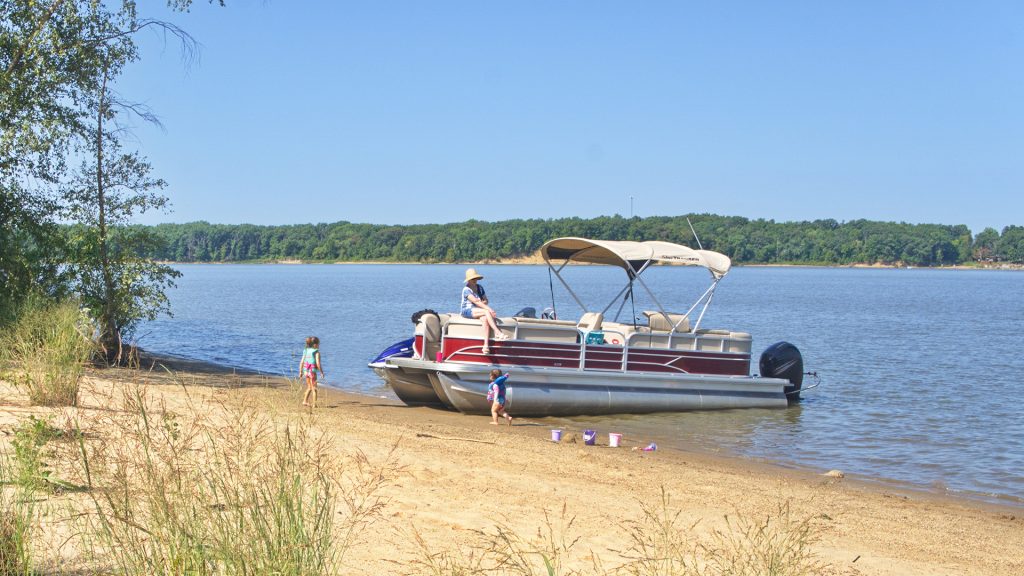 Before we get into the intricacies of financing a pontoon boat, there are a few things you need to know about it. Regardless of your credit score, you must first pay off your current pontoon boat loan if you want to purchase another boat shortly.
It's also a good idea to remember that if you're looking to buy an older boat, you may not be able to get a loan. Finance for pontoon boats within the last 15 model years is significantly more straightforward than financing for pontoon boats over 15 years old.
Steps to Financing Pontoon Boat
Buying a pontoon boat can be expensive, so how can you get financing? There are a few important starting steps you need to take to secure pontoon boat financing.
Meet With Your Local Credit Union
First and foremost, meet with a loan officer from your local credit union. They will be able to guide you through the loan process and help you identify what you can afford. In some cases, the credit union can even pre-approve a loan of a specific amount, so you know what your budget is when shopping.
Key point: In some cases, the credit union can even pre-approve a loan of a specific amount, so you know what your budget is when shopping.
A boat loan pre-approval is a great place to start. After calculating your down payment, think about how much you can afford to pay each month. There is no guarantee that the loan amount will work with your monthly budget when you meet with lenders, but they will accept you for a particular amount according to their rules.
Obtain Your Credit Report
The next step is to obtain a copy of your credit report. While it's difficult to predict which of the three major credit bureaus a lender would use to evaluate your loan application, it's advisable to have your credit reports checked by Experian, TransUnion, and Equifax.
Compare Pontoons to Find the Best Deal
Now is the time to shop around for the best deal. That doesn't mean looking at the ads to see which one has the best deal. The number of years it will take to pay off a boat may be an issue for you.
Keep in mind that you should always read the fine print, as you need to know whether or not a lender requires a specific credit score, how long the loan is valid, and whether or not there are any age limits on the boat itself. Use a boat loan calculator to see how different loan amounts and interest rates translate into monthly payments.
Essential Considerations Before Buying a Pontoon Boat
It's a good idea to consider all the costs involved in owning a pontoon boat before choosing a financing plan. Consider the ongoing costs of owning a boat before making a final decision. This may include insurance and the cost to fuel the boat. Additionally, there are fees for winterizing, towing, storing the boat, registration, and taxes.
A maritime survey is also a good idea when purchasing a pre-owned boat. Inspections are performed to evaluate whether or not a boat is suitable for use on the water. This includes a look at the boat's condition and whether or not repairs or maintenance are required.
Interest Rates
If you borrow money from one of these financial institutions, the interest rate you pay is a significant consideration. When comparing pontoon boat loans, it's critical to read the fine print and make sure you compare like with like.
Pre-approval
Pre-approval is available once you've selected both a lender and a loan and are ready to buy a boat. When you've settled on a purchase price and signed a purchase agreement, you'll fill out a pontoon boat financing application, which is much more time-consuming than this process. With a pre-approval letter, you can show sellers and dealers that you're serious and that your lender has granted a certain amount as a preliminary approval for you to do so.
Application
A plan for the application process is essential to your success. You will most likely be required to provide details regarding your work, a personal financial statement detailing your assets and liabilities, and more information regarding the boat you intend to buy. After applying, you should typically hear back from the lender within a day regarding their decision.
Down Payment
As a condition of your loan, the credit union may require that you make a down payment. A down payment is a good idea as it can significantly reduce your payment amount and additional interest incurred on the loan.
Marine Survey
A maritime survey is similar to a home inspection before purchasing a home; your lender may need one if you've been pre-approved. An appraisal of the boat's condition and its market value is required before a loan may be approved. Marine surveys are great, but it's crucial to ask questions about the boat's history and ensure the seller discloses any faults in the written sale contract.
Key point: Marine surveys are great, but it's crucial to ask questions about the boat's history and ensure the seller discloses any faults in the written sale contract.
Closing And Funding
Once all of the other loan requirements have been satisfied, your lender will schedule a closing date. Third-party escrow services are available if you buy from a private party or want extra security.
You and the seller finalize the terms of the transaction by using these services. In this case, you pay the escrow service, and you get to use the boat for an agreed-upon period before you grant final permission, at which point the escrow business delivers the seller's monies to them.
Tips For Pontoon Boat Financing
Examine the various interest rates. Remember to look over the terms and conditions of the loan, including any additional restrictions.


Be familiar with the many types of loans, including fixed rates, fixed durations, simple interest, variable rates, and balloon payments.


Prepare yourself adequately for the application process. Please inquire about requirements with the financial institution providing the loan, and prepare the necessary paperwork and information in advance.


Inquire about the background of the vessel by asking questions. Make sure that any issues are detailed in the written contract.


Obtain a marine survey, as most lending institutions require this step as part of the underwriting process.


You should get a receipt for the down payment from the dealer or vendor and a bill of sale for the boat from a private seller.


For peace of mind, you might consider employing an escrow service provided by a third party.


Make sure you are familiar with the loan closing and funding procedure. The dealer or seller will determine the closing date, but you should be aware of the charges required on that day and the paperwork that must be signed.
Frequently Asked Questions
How long can you finance a new boat?
There is a wide range of terms for the length of a boat loan, anywhere from two to fifteen years. The loan period will vary depending on how much money is down and how much is borrowed. 
How long can you finance a used boat?
The loan conditions offered for used boats are comparable to those for new pontoon boats. You will, however, need to be sure that the lender you work with is willing to provide financing for used boats.
Is it easier to finance a new or used boat?
Both brand-new and pre-owned boats are readily available for financing. Buying a used pontoon boat can save you money in the long run because the price is lower, and the depreciation rate is more predictable.
What type of loan do you get to finance a boat?
In addition to fixed and floating-rate pontoon boat financing, secured and unsecured loans like home equity lines of credit are available.
How and when should I look for a boat loan?
After you figure out how much money you have to spend, and before you begin looking for a boat, you should apply for a boat loan. A pre-approved loan will ensure that you only purchase boats within your price range.
Key point: A pre-approved loan will ensure that you only purchase boats within your price range.